Characteristics of product
Roadseal Sealant, created from new technology, is used for repairing the cracks in asphalt and concrete road, bridge elastic joint and traffic signal sensor. Construction using Roadseal Sealant can be done in less time and amount of cost, compared to constructions using other method.
3 Key Technology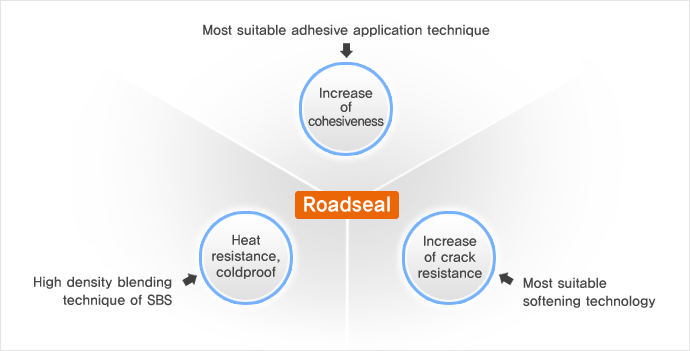 When our product, Roadseal is used in road, bridge, tunnel or concrete structure, it will be hard against temperature change. Structure will not change in high temperature, and will reduce the occurance of crack in low temperature.
Characteristics of product
Improvement in characteristics in high temperature :
- Penetration, Flow rate reduced
- Restoration rate, softening point increased
Improvement in characteristics in low temperature :
- Cohesiveness in low tempera
- ture increased
Improvement in resistance rate :
- resistance increased
Improvement in cohesiveness with concrete :
- Cohesiveness in normal and low temperature increased
Crack, Sealant standard
Test area and standard
Standardization of crack sealant
Standardization of joint sealant
test area
test method
test condition
required number
test condition
required number
(Softening Point
ASTM D 36
Ball & Ring
83℃ more than
Tensile dhesion
ASTM D 5329
25℃
700% more than
Ductility
ASTM D 113
25℃
400㎜ more than
Penetration
ASTM D 5329
25℃, 150g, 5sec
9㎜ less than
25℃, 150g, 5sec
7.5㎜ less than
ASTM D 6297
-18℃, 200g, 60sec
1.0㎜ more than
Flow
ASTM D 5329
60℃, Perpendicularity, 5hr
3㎜ less than
60℃, 5hr
3.0㎜ less than
Resilience
ASTM D 5329
25℃
60% more than
25℃
40~70%
Asphalt Compatibility
ASTM D 5329
Pass
Pass
Installation Temp. range
182~199℃
Safe Heating Temp. range
presented by sealant manufacturer
199~216℃
Bond
ASTM D 3405
3cycles, -29℃ 50% Elongation
pass
3cycles, -7℃ 100% Elongation
pass
Flexibility
ASTM D 5329
-23℃
Pass
name of related standard
ASTM D 3405 :
Standard Specification for Joint Sealants, Hot-Applied for Concrete and Asphalt Pavements

ASTM D 6297 :
Standard Specification for Asphaltic Plug Joints for Bridges


---