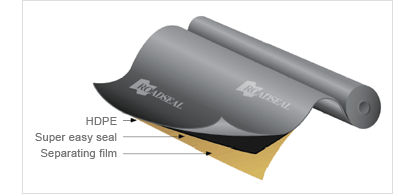 Description
underground structure waterproofing using 'self-adhesive membrane sheet' (magic sheet) is made of high polymer modified asphalt is designed to form multiple film of uniform thickness for improved water-tightness and workability.
Features
A polymer modified asphalt improved to be durable at low temperatures which does not soften at gigh temperature and has excellent durability and weather resistance.
SBS triblock copolymer has very low thermal sensitivity, so is not brittle at low temperatures and is fluidic or alkalis.
A polymer modified asphalt with high elasticity and plasticity which is not easily fractured by crack asnd is highly resistant to crack movement self-adhesive at the joint, making a single body for high adhesive strength and water0tightness for a long term basis.
Cross section
Bottom + Wall system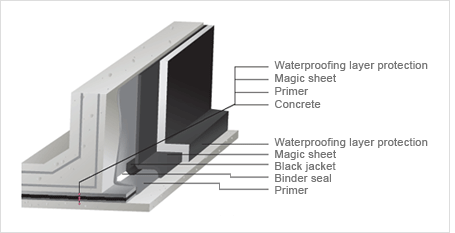 Top + Wall system

Sheet joint detail drawing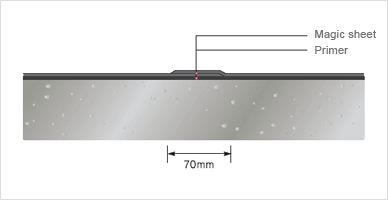 Frailty reinforcement
Work sequence
Top and floor concrete : surface cleaning → primer coating → attaching magic sheet → waterproofing layer protection (protective mortar)
Wall concrete : surface cleaning → primer coating → 1st corner reinforcement (binder seal) → 2nd corner reinforcement (black jacket) → application of self-adhesive sheeting → waterproofing layer protection (PE form) → backfilling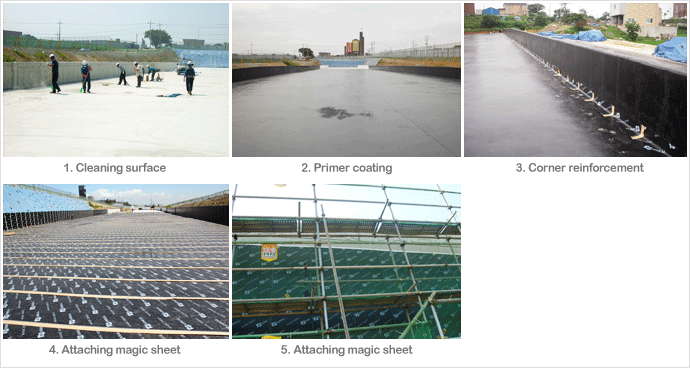 ---